About Bend Aero Modelers
We are a charter club of the Academy of Model Aeronautics (AMA Charter 2311), dedicated to the sport of building and flying Radio Controlled (R/C) model aircraft. Located on the east side of the Cascade Mountains in picturesque Bend, Oregon, the Bend Aero Modelers membership has a wide variety of interests spanning from scale to pattern, combat, helicopters and Jets. Many of our members are sport flyers and fly just for the love of modeling
For more information, please explore the information provided on our website. And of course, come fly with us here in sunny Central Oregon when you get a chance.
History

The Bend Aero Modelers (BAM) got their start flying from the landfill on South 27th in the late 1980's. Just a group of fun loving flyers at that time, it wasn't till 1990 that we officially organized to form what is now known as the Bend Aero Modelers.
Chartered in 1990 as Academy of Model Aeronautics' club number 2311, we made a brief move to Tillicum Park after the City of Bend asked us to move from the landfill. In the mid 90's BAM looked to the Bureau of Land Management (BLM) for help and leased a suitable site about 18 miles east of Bend just off Highway 20.
We took a bold step by paving a portion of our runway with a generous donation from Deschutes Redimix in 1999. Then in November of 2007 we started preparations for extending the runway even further. In April of 2008 the dream became reality when BAM contracted with Hooker Creek to extend the runway to 550 feet, a daunting task for a small group to fund a $9,000 improvement. 
At the conclusion of the runway extension project, we named our flying site "Popp's Field" in honor of Gary Popplewell, a former member and BAM President.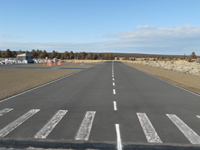 Originally some 600 by 60 feet with a compressed gravel base, our paved portion now stands at 550 by 30 feet with 150 feet of geotextile fabric over-run for a total of 700 feet. This enhancement allows us to accommodate big gas aircraft and high performance aircraft such as jets.
We continue to look to the future of our club by considering options to improve our relationship with the City of Bend and Bend Park and Recreation, allowing us to contribute to our community. It is the ultimate dream to see an R/C park created here in Central Oregon, for use by all R/C enthusiasts, a site to be proud of, bringing model aviation events to Central Oregon—and where better than here in Bend. 
Our group remains focused, looking eagerly to the prospect of model aviation.