Contacting Us
Please allow 24-48 hours for us to get back to you. Further, please note that due to the amount of SPAM that is sent via web crawlers and similar SPAM internet bots we no longer list actual email addresses on our website. To contact us, please use the below form.
For directions to our flying site, please refer to the information under Flying Site further below.
Please submit any inquiries and questions using the below form.
NOTE: All fields marked with an asterisk (*) are required.
Flying Site
Our flying site (called "Popp's Field") is located about 18 miles east of Bend, Oregon (Deschutes County) going towards Burns, just off Highway 20 near Horse Ridge and the Oregon Badlands. For detailed directions, please click here.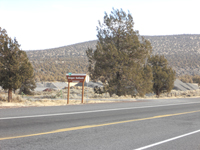 The flying site features a 550 by 30 feet paved runway. In addition, the field accommodates our club house and two Porta-Potties. Access to the field requires a lock combination to open one of the main access gates.
Electricity, water, and garbage disposal are provided for special events and club activities as appropriate. However, three (3) recycling barrels are available at all times during the year. Since we do not have access to scheduled disposal services, we expect all our members and visitors to dispose of their own garbage, unless garbage barrels/bags are put up in support of club events.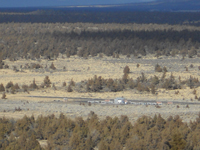 Our flying site provides the following pilot amenities:
Four (4) pilot stations
Nine (9) setup tables
Four (4) run-up stands
Three (3) taxiways
550 x 30 feet runway
In general, we welcome visitors and spectators. Any visiting pilots must be accompanied by a current member of BAM. We highly recommend that you contact us a few days prior to your arrival so we can arrange for a member to meet you at the field if necessary.
NOTE: Below are selected images of our flying site. To pause the slide progression, simply hover with your mouse cursor over the image. Your browser's security settings may prevent you from seeing the below slide show. To see the slides, please enable scripts/ActiveX controls in your browser settings. Or please confirm the usage of scripts/ActiveX controls in the pop-up message bar that appears just below the browser tab at the top of this page (if applicable). Alternatively, please click here to view the images without running the slide show.